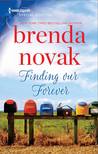 New York Times bestselling author Brenda Novak welcomes readers to the town of Silver Springs, where surprises wait around every corner!
The search for her birth mother brought Cora Kelly to the New Horizons Boys Ranch. Getting a job there was easy enough, but confiding in Aiyana, the ranch's owner, that she's really her daughter? Cora's not sure she can do that, not unless she's confident the news will be welcomed. And once she gets to know Elijah Turner, Aiyana's adopted son and ranch manager, that decision becomes even more difficult.
Although Elijah can't deny his deep attraction to Cora, he's always struggled with trust. Anyone with his past would, and there's something about the ranch's newest employee that isn't exactly as it seems. But if the feelings she awakes in his guarded heart are any indication, she might be just what he's long been waiting for.
Julie's Review ⭐⭐⭐⭐⭐
I thoroughly have been entertained whilst reading Finding Our Forever by Brenda Novak. She has a way of enrapturing you into the story, getting to know the main characters along with the others within the story.
As with her other stories, once you open the book you NEED to know what happens next. Whether it's a small town romance, or dark thriller. You get taken on an emotional journey, as you discover the unfolding story.
I loved Cora and Elijah, they both had big secrets, and histories preventing them both from opening up and accepting what they had. They both tried to ward the other off, but both let their defences down and the attraction was too strong to be ignored. And, whilst I thought this would go so horribly wrong, the secrets were hidden until things were needed to be divulged.
I thought the school setting was great, added an air of mystery, as to why make a decision to give up your child, then to go on and help as many as you could, but with very good reason, as we find out. It made me appreciate Aiyana so much more.
Cora was a very caring person, who worried about hiding secrets, but dealt with the situations with compassion and thoughtfulness. She really wanted answers but did not want to hurt anyone in the process of finding out the truth, especially her adoptive parents, Lilly and Brad, they were really lovely and had a strong loving bond with her.
Eli was very reserved and was shocked with how his feelings for Cora moved along.
They were so well suited, they will make a great team with the futures of the boys at the school.
I can't wait to see if we get more of all the main characters as we learn more about the other occupants of Silver Springs.
No couple has an easy straight forward path to happiness, and Cora and Eli are testament to that, they did have an understanding of each other, when to push and when to leave!
A story of love against the odds, of trust and friendships, kindness and compassion with lots of lovely sexiness.
This had me gripped, didn't want to put it down, imagine a warm comfortable room, with a large glass of wine to help this story shine and come to life through the pages.



NB: If you're a print reader, be sure to run out and grab a copy right away, because it'll only be available in print for one month.