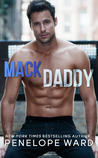 Single Dad. Second Chances. Meet Mack in the newest STANDALONE novel from New York Times bestselling author, Penelope Ward.
They called him Mack Daddy. No, seriously, his name was Mack. Short for Mackenzie. Thus, the nickname. Perfect, right?
So was he: perfect. The perfect physical male specimen.
At the private school where I taught, Mack Morrison was the only man around in a sea of women.
Everyone wanted a piece of the hot, single father of the sweet little boy.
I became a woman I didn't recognize, someone riddled with jealousy, because they didn't know that—to me—he was much more.
They didn't know about our past.
He'd chosen my school for his son on purpose, because Mack and I, we had unfinished business.
As my friend, Lorelai, so eloquently put it: "Unfinished business between two people who are clearly attracted to each other is like an eternal case of blue balls." And I was suffering in pain from my case.
I was still intensely attracted to Mack. I tried to resist him, immersing myself further into a relationship with someone else just to protect my heart.
Not to mention, getting involved with a parent was strictly against school rules. But seeing Mack day in and day out was breaking me down.
And soon I might be breaking all the rules.
Author's note – Told in alternating points of view, Mack Daddy is a full-length standalone novel.
Caroline's Review ⭐⭐⭐⭐
"His eyes lingered on mine, and suddenly I was back in college again, looking into the eyes of the first guy who'd ever broken through my walls, made me comfortable in my own skin, then broke my heart."
Mack and Frankie were always friends, never lovers, but they were the love of each other's lives. It was something unspoken between them. When Mack disappears out of her life, the years pass and Frankie moves on and she leaves him firmly in the past. When Mack shockingly resurfaces in her present, Frankie is in a contented relationship with another man. However, Mack's reappearance and determination to win her back throws her emotions and her life out of kilter, and makes her question her relationship.
"But not for one second, have I ever forgotten how you made me feel – that connection that we had. It's a feeling I have never been able to replicate. I miss it. I miss you. So f*cking much."
Mack knows he made a mistake in the past, but it was the only choice he had. Now, he's back in Frankie's life but he finds that her boyfriend isn't the only obstacle he has to overcome. There's also Frankie's insecurity and distrust of him, as well as the machinations of other people in his life.
This second chance romance was a little bit different because everything in the past between the main characters was unspoken, and never actually realised. Mack was a solid character who had made difficult choices, and lived by them until he found his situation no longer tenable. Frankie had grown from a mousy girl with social anxiety issues into a pretty confident, capable woman.
Overall, I thought this story was sweet, sexy, and humorous, with a little bit of mystery. I loved how Mack was all-in where Frankie was concerned and so intent on having her in his life, and pursued her any way he could. He was so desperately in love with her and I was so glad that Frankie was brave enough to let him back in.